The Endeavor J-Series laser offers our customers the confidence and stability they have become accustomed too when dealing with TJS. Since 1980, TJS has been a global manufacturer and supplier of laser systems, consumables, service and repairs. As a result of this extensive manufacturing and support background, the concept and development of the Endeavor J-Series was initiated, the focus being a system offering only the very best features and reliability to our customers. We have integrated many design features normally considered "options" as standard features in the Endeavor and we are confident our customers will appreciate and utilize daily.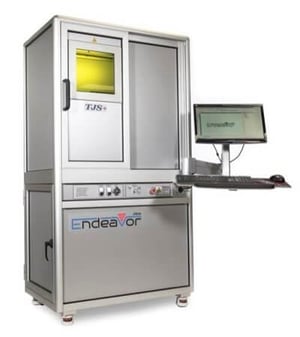 The Endeavor J-Series will be offered as a turn-key, Class 1 fully enclosed fiber laser workstation. Another standard design feature is our automated "JOG" Z-axis with incremental, manual motorized adjustment. This feature allows the operator to make motorized adjustments conveniently from the front panel JOG button or from within our Prolase 7 control software (Prolase 7 Plus fully programmable option is available upon request).
Other design features include adjustable/leveling industrial casters with locking feature, frame mounted 110VAC outlet for fume extraction/accessory, safety interlocks, remote interlock, foot switch, LED Lightning, large ergonomic work surface and operator controls station.
Endeavor J-Series MOPA Fiber lasers will be available in 20W,30W,50W & 70W Air-Cooled systems, include visible "RED" laser for part alignment and pre-mark preview. I.R. (1.064nm) and U.V. (.532nm) systems are available.
The Endeavor J-Series will be available with flexible marking field and beam spot sizes to satisfy all markets and applications.
We will offer three different options, the first being a turn-key, Class 1 enclosed automated marking system discussed. In the future, we will introduce a desktop version for small runs and job requirements and the final configuration will be our retro-fit option to existing systems. This option will allow customers to utilize their existing workstation along with most automation as we would simply replace the laser and control with the appropriate Endeavor J-Series laser.
All Endeavor J-Series lasers will be controlled by our industry leading Windows 7 Prolase operating system (XP is available upon request).
As a courtesy to our customers, we will be including a set of laser safety glasses with each Endeavor J-Series laser purchased.
All Endeavor J-Series fiber laser systems are proudly design, manufactured, and assembled in the U.S.A!
Contact us for information on the formal release of the Endeavor J-Series or click the image below to learn more.
We also invite you to download the brochure: