Laser Service and Repair
TJS offers complete service and repair programs for many Industrial, Scientific, Medical and Aesthetic lasers including Flash Lamp pumped, Fiber, Diode and CO2 laser technology.

Our in-house repair department provides technical support for: H.V. lamp power supplies, RF-Drivers, PC Boards, laser module alignments, fibers, IPL hand piece refurbishment, pump chamber restoration, laser system maintenance, beam delivery systems, software and hardware upgrades and much more.
TJS boasts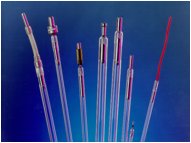 one of the industry's largest and best-trained technical staffs. Our engineers and technicians are available throughout the US, Canada and Mexico to offer our customers a choice of programs including installation, in-house or on-site training and service.
We pride ourselves on providing quality products, outstanding customer service and prompt response time.
Call us next time you require service or need pricing for a Preventive Maintenance Agreement.
Service Overview:
System Calibration for Laser Power/Energy verification
Laser Beam Stability and Operating Mode optimization
Optical Fiber polishing, repair and alignment
Clean/replace Deionization and Particle filters
Check power supplies for proper output
Run diagnostics on computers
Clean, inspect, align, and peak for maximum performance and power output
Laser Head/Pump Chamber Inspection, Restoration and Repair
Gold cavity inspection or replacement for corrosion, pitting, flaking and reflectivity
Lamp holder/clip inspection or replacement for corrosion, flaking and deterioration
Flow tube inspection/replacement for thermal stress, cracks, mineral deposits or U.V. damage
Inspect, clean, replace mirrors for burns, scratches and pitting
Inspect, clean, replace AO Q-switch
Adjust Bragg angle on AO Q-switch
Align mirror and Q-switch for maximum optical performance and output power
Cooling system
Check DI-water for resistivity, contamination, level and flow
Check thermostat and solenoid for proper operation
Check operation of control panel functions
Check RF driver
Check RF-output and reflected power
Test fault circuitry