Pulsed Xenon Lamps and Strobe Lamps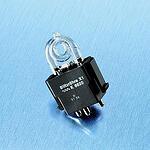 Pulsed Xenon lamps are the light creator of choice for high performance flash and arc lamp applications such as medical and industrial laser pumping, digital and studio photography, warning beacons and strobes, stroboscopic and effect lighting.
Our lamps are perfectly suited for high repetition rates in stroboscopic applications. Typically, linear, U-shaped, or helix form the range of standard stroboscopy lamps, covering everything from low-power 2 mm arc length up to more than 600 mm and 3000 W.
Pulsed Xenon Lamps Features
Wide variety of lamp designs

Different shapes, colors and

sizes (from below 10 mm to

approx. 600 mm)

Wattage ranging from 1 to

several thousand Watts

Large variety of envelope

materials for customer-specific

spectral requirements

Customization of lamps with

trigger electrodes, end caps,

flexible or rigid wires
Pulsed Xenon Lamp Applications
Sport photography
Machine vision
Display effect lights
Medical
Architectural lighting