The first of our Endeavor fiber laser systems to be debuted was the J-Series. A turn-key, Class 1 fully enclosed fiber laser workstation delivered as standard many features that are normally high priced options, while delivering a reliable and stable work environment for our customers.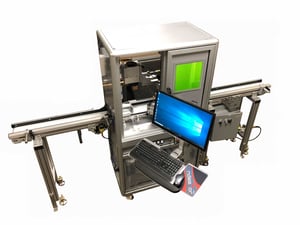 The second of the Endeavor series to launch was the RETRO.
The RETRO is a replacement system for any existing flash lamp, diode pump, CO2, or other laser system.
RETRO utilizes an existing workstation by replacing the laser and controls.
The RETRO offers a small footprint and flexible interface giving users a great degree of flexibility. This system can be designed into a new automation cell, an OEM product, or added to an existing production line.
We designed the Endeavor RETRO for maximum flexibility based on our over 31+ years of repairing and retro-fitting laser systems.
Fiber Laser Marking Applications
Because of the flexibility inherent in the Endeavor fiber laser, there are many applications for this system. Some of the most common marking applications include:
Machine Tooling - the Endeavor marks various metal materials as well as engraving and annealing or surface marking.
Tool & Die – Ideal for deep engraving >.040-.050" for die molds and other high hardness metals.
Firearms – Creating permanent and decorative marking. Capable of .015" deep engraved marks with .005-.010 graphics, logos and text.
Industrial/Construction Tooling – Perfect for permanent annealed surface or stain marking on industrial blades, cutters, and tooling.
Hand Tools - Permanent marking on hand tools including logos, part numbers, and 2D-Matrix.
Tooling – Ideal for permanent annealed surface marking logos, part numbers, and graphics on a wide range of surfaces including carbide, HSS, and more.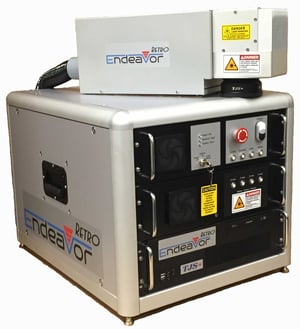 Click here to see a dimension drawing of the Endeavor RETRO! Contact us for more information about the Endeavor RETRO Endeavor fiber laser marking system.
Check out the Endeavor J-Series fiber laser system that is custom-designed to meet your actual needs and wants and not what the laser company wanted to build.
This fiber laser system represents our endeavor to bring our customers the best fiber laser system available anywhere.
Learn More
All Endeavor J-Series fiber laser systems are proudly design, manufactured, and assembled in the U.S.A!