U-Shape Flashlamps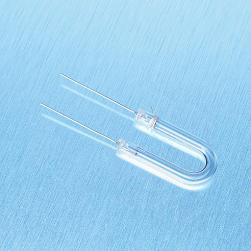 Our U-shape flashlamps are available in a few standard sizes to suit popular applications. This shape is suitable for circular reflector applications and only requires a moderate amount of glass forming.
Our U-shape flashlamps are designed to meet your needs and provide complete customized plug-in solutions – lamps, sockets and integrated trigger coils.
U-shape flash lamps can be produced in all available envelope materials.
Applications include:
Medical applications
Warning Beacons and tower strobes
Professional Photography
Machine Vision
Architectural and effects lighting