The Endeavor J-Series and Endeavor RETRO maintenance-free MOPA fiber lasers offer our customers the confidence and stability they have become accustomed to when dealing with TJS.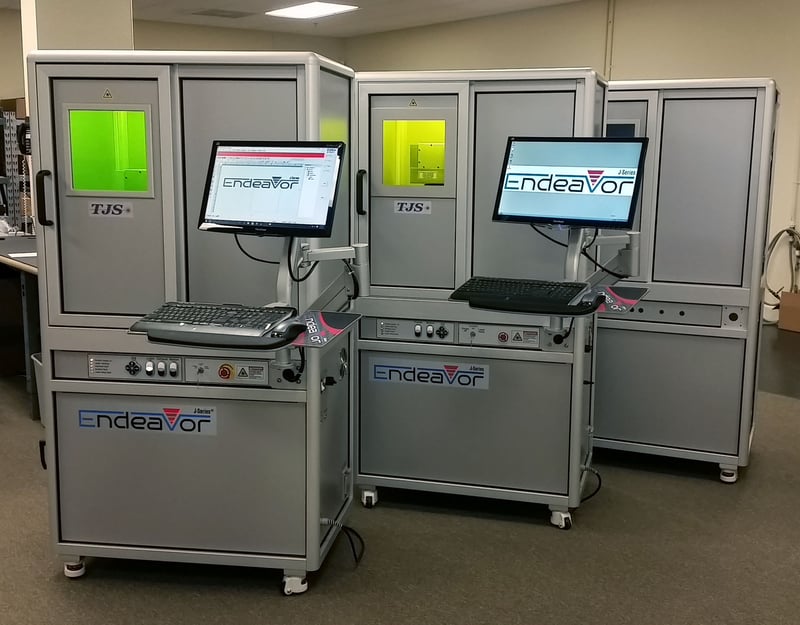 Since 1980, TJS has been a global manufacturer and supplier of laser systems, consumables, services, and repairs. As a result of this extensive manufacturing and support background, the concept and development of Endeavor products were initiated.
Our primary focus is being a system offering our customers the best features and reliability. We have integrated many design features normally considered "options" as standard features in the Endeavor products, and we are confident our customers will appreciate and utilize them daily.
The Endeavor J-Series is offered as a turn-key, Class 1 fully enclosed workstation. Another standard design feature is our automated "JOG" Z-axis with incremental, manual, motorized adjustment. This feature allows the operator to make motorized adjustments conveniently from the front panel JOG button or from within our Prolase 10 control software (10 PLUS "Auto-Focus" fully programmable option is available upon request).
Other design features include a Visible "RED" PRE-Mark alignment laser, Custom TJS Axis Server Control/Display, 19" rack mount design computer, wireless mouse/keyboard, HDMI display, adjustable/leveling industrial casters with locking feature, frame-mounted 120VAC/60Hz outlet for fume extraction/accessory, footswitch, safety interlocks, remote interlock, LED Workstation Interior Lightning, large ergonomic work surface and operator controls station.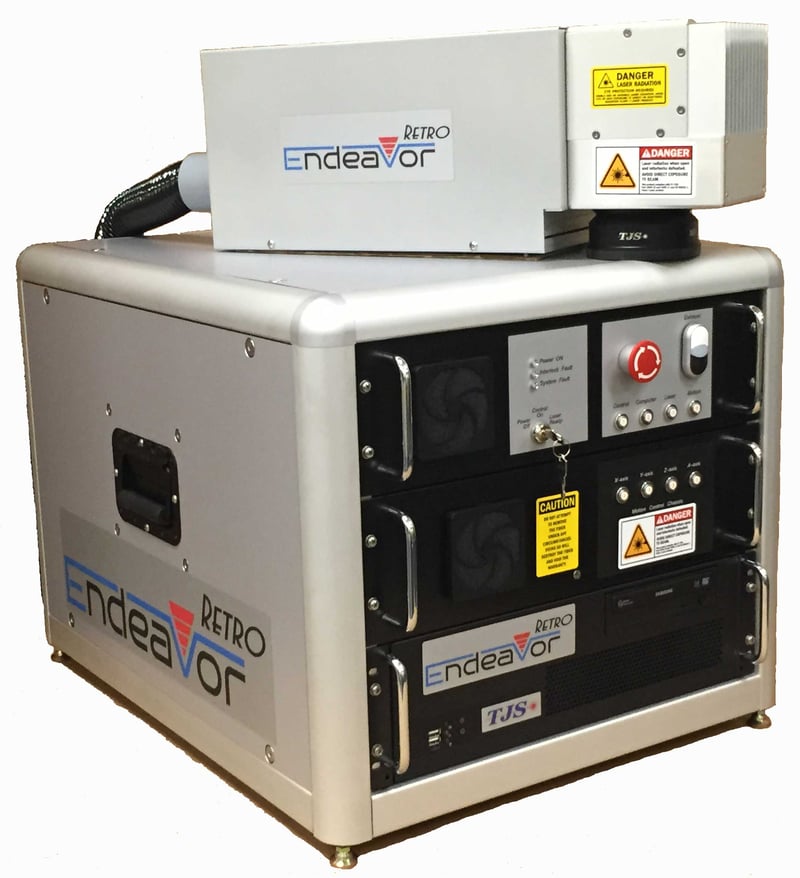 The Endeavor J-Series and RETRO are available in 20W, 30W, 50W, 70W, 100W, and 200W versions, all operating @ 120VAC and Air-Cooled! They are available with flexible marking field and beam spot sizes to satisfy all markets and applications. Our industry-leading Windows PROLASE 10 operating system will control all Endeavor J-Series and RETRO lasers.
Each Endeavor system is proudly manufactured and assembled in the USA! We are so confident in our systems, we offer an unprecedented 3 YEAR Limited Warranty on our Fiber Lasers!
On behalf of everyone at TJS, we thank you for your consideration. We will continue to work hard to maintain your support as we are confident TJS manufactures a fiber laser capable of satisfying all of your manufacturing and production requirements.
Please download the Endeavor J Series brochure here.
Please download the Endeavor specification document here.
Read more articles about the Endeavor fiber laser here.