With advancements in medical lasers making greater and greater strides all the time, it is important to know that any medical laser you add to your office is fully supported throughout the life of the laser.
Finding a reliable source for commonly replaced laser parts (like flashlamps) and experienced service personnel in case something goes wrong is the key to keeping your laser running and productive.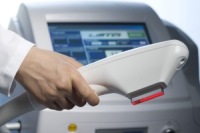 In addition to OEM flashlamps, TJS provides a large selection of replacement components and services. These would include, but not be limited to:
Fiber Optic Cable Assemblies and Repairs
Hand piece Assemblies and Optics
Laser Pump Chamber Assemblies and Repairs
Nd:YAG, Alexandrite, ruby Rods and Repairs
Mirrors and Optical components
Flow Tubes and Glass cavities
Laser Safety Glasses and Eye protection
In-House Repair Service

for lamp power supplies, drivers,pc-boards, fibers, laser tubes and systems repairs
Medical Laser, Cosmetic Lasers, or Aesthetic Lasers are used for various applications, including Hair Removal, Tattoo Removal, Skin Rejuvenation, Cellulite Reduction, Body Sculpting, Dental Lasers, Ophthalmic eye surgery, and more.
Medical Laser Service and Repair
TJS offers comprehensive service and repair support for medical laser systems. With on-site service options, PM agreements, spare parts, flashlamps, and support, we can help with everything from installation and basic training to repairs.
With highly skilled scientific, electrical, and mechanical engineering staff on our laser service team, you can be sure that we have the expertise and experience to help you through whatever laser equipment issues you are experiencing.
Learn More
TJS is a technical laser company supporting the medical, cosmetic, and aesthetic laser markets worldwide since 1980.
Contact TJS and let us help you locate the right laser components for your medical laser system. Our trained and experienced staff can help you match your laser system requirements with our large stock of parts of laser systems so that you get the right part the first time.