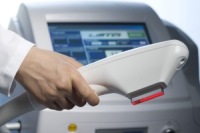 Recognized as the first picosecond laser, the Cynosure PicoSure laser system offers amazing results in tattoo removal and skin revitalization. For sites looking to add the Cynosure PicoSure laser system we offer repair and service options for Cynosure PicoSure 755m/532nm laser systems.
With advancements in medical lasers making greater and greater strides, it is important to know that any medical laser you add to your offerings is fully supported throughout the life of the laser. Finding a reliable source for commonly replaced parts (like flashlamps) and experienced service personnel in case something does go wrong is key.
Service and Repair
A reliable laser system, we do offer comprehensive service and repair support for the Cynosure PicoSure laser system. With on-site service options, PM agreements, spare parts, flashlamps, and support we can help with everything from installation and basic training to repairs.
With highly skilled scientific, electrical, and mechanical engineering staff on our laser service team you can be sure that we have the expertise and experience to help you through whatever laser equipment issues you are experiencing.
Learn More
Contact TJS and let us help you locate the right laser components for your medical laser system. Our trained and experienced staff can help you match your laser system requirements with our large stock of parts of laser systems so that you get the right part the first time.