From medical and industrial lasers to warning beacons and effects lighting, krypton arc laser lamps are the light engine of choice for high-performance laser applications.
What are Krypton Arc Laser Lamps?
Krypton arc laser lamps are a type of confined arc flash lamp. Arc lamps, regardless of type, produce light by an arc (the discharge that occurs when gas is ionized) passing between metal electrodes in an inert gas.
Producing light over a continuous spectrum from ultraviolet to infrared, krypton arc lamps produce microsecond to millisecond duration pulses of broadband light of high radiant intensities.
Where Can You Find Krypton Arc Laser Lamp Replacements?
We offer a wide variety of krypton arc laser lamp replacements. For applications with strict requirements, we offer a range of quartz envelop materials. For applications where the efficiency and price are greater concerns, we also offer hard glass or borosilicate options.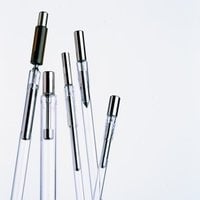 TJS also offers the largest assortment of different lamp shapes meeting the needs of diverse products. We offer many lamp forms, including linear lamps, U-shape, circular, helical and double helix forms. Complete plug-in solutions, lamps, sockets and integrated trigger coils are also available and can be customized to meet any customer need.
Learn More:
Contact TJS for all your krypton arc laser lamp requirements. Our experienced support staff can provide a solution with unmatched reliability. We offer OEM laser components and required service with extensive product knowledge.