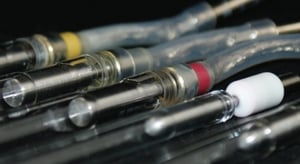 Genuine GSI OEM lamps out-perform all others. GSI Group, in close co-operation with its lamp supply partners, has made significant enhancements to its range of laser arc and flash lamps.
These new and improved OEM lamps are in addition to the current range of standard JK lamps and have a significantly longer service life. The range of lamps available extends to both new model JK lasers and older JK700 series lasers.
Key Features and Benefits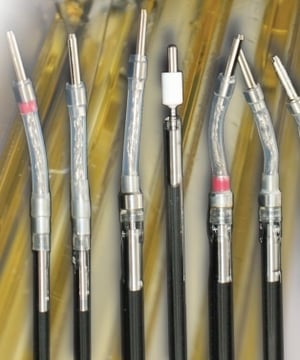 JK125/300P/300HP/300D/450/600/700/704 series:
Typical lamp shot life improvements of > 2-3 times
Retrofit to JK700 Series - direct replacement
JK401SM/501SM/802SM/1002SM/2003SM CW Lasers:
Designed with re-usable boot assembly (recommended 10 lamp changes per boot assembly)
Typical lamp life improvement of > 2 times
Booted lamp design for a quick and easy lamp change, thereby maximizing laser uptime
GSI has a philosophy of continuous improvement and strives to work hard on improving both its current range of JK Lamp Pumped Solid State (LPSS) lasers and on enhancing the performance and serviceability of its lasers in the field.
Only GSI, as the designer of these systems, can really understand what is needed to reliably improve lamp performance without compromising laser operation and without risk of incurring damage to the laser resonator itself. Qualification trials are extensive and carried out under a wide set of operating regimes ensuring that the lamps are suitable for the complete range of parameters that the lasers are capable of.
Literally, tens of thousands of hours of CW running and hundreds of millions of shots pulsed operation have been run to ensure the lamp design and qualify data integrity.
Typical Lamp Life Improvements for Latest JK Lamp Technology Versus Previous Generations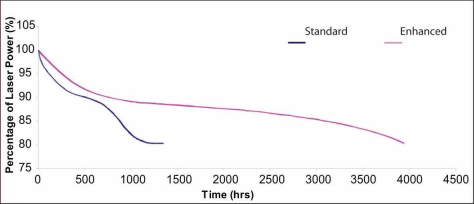 Example 1: JK501SM running at full CW power (500W at the workpiece). Pair of M203178B booted lamps assemblies benchmarked against standard lamps. End of life defined as a 20% drop in laser output against starting lamp drive conditions. Actual lamp drive conditions used were maximum worst-case drive conditions (9kW per lamp).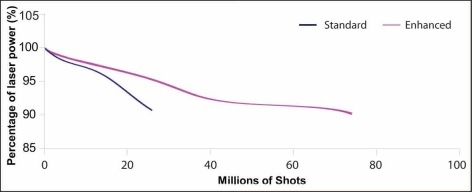 Example 2: JK600HPS running at 40Hz, 5.5J per pulse (220W average power – at resonator), 0.6ms rectangular pulse. Pair of PA033540X enhanced lamps benchmarked against standard lamps (P55B6770B).

Learn More
As the largest consumer in North America of flash lamps, TJS, Inc. (TJ Sales Associates, Inc.) provides support for the industrial, medical, aesthetic, and semiconductor laser markets globally. We offer laser services, components, refurbishing, and repairs for all types of laser systems.
Contact TJS and let us help you locate the right laser system components. Our trained and experienced staff can help you match your laser system requirements with our large stock of parts of laser systems so that you get the right part the first time.