As the largest U.S. company manufacturing direct replacement components for the aesthetic laser industry, TJS offers high quality replacement components and highly trained and experienced staff to perform aesthetic laser repair.
More Than Just Replacement Components
Finding a reliable source of replacement components is, of course, necessary but beyond just components it is important to find technicians who have the experience necessary to get your aesthetic laser up and running again.
TJS offers a full range of aesthetic laser system services like training, preventative maintenance, fiber repair, cavity and pump chamber restoration, and lamp power supply repair. Whatever the problem, our medical laser repair services should be able to get your laser system into working order and keep it running so you can avoid downtime.
A Wide Range of Support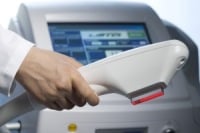 Some of the medical laser manufacturers and systems we support include:
Alma
Altus
Asclepion
Candela
Coherent
Continuum
Cutera
HGM
HOYA ConBio
Laserscope
Syneron
VBeam
VBeam Perfecta
Zimmer
You can find a more comprehensive list here.
Learn More
TJS is a technical laser service and repair group supporting the medical, cosmetic, aesthetic and scientific laser markets worldwide since 1980. We supply manufactured direct replacement components for the medical laser industry, in fact, we are the largest such company in the US. Our experienced technical staff delivers unparalleled expertise to our customers.
Contact us for your aesthetic laser repair needs.