Flash lamps are the oldest energy source used for lasers, but the modern flash lamps most are familiar with are significantly different from the flash lamps used in the earliest days of lasers. Modern flash lamps offer significantly longer useful life and now come in a wide array of materials and shapes.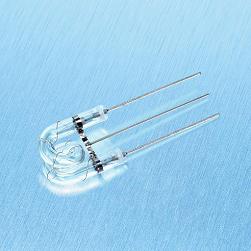 Xenon and Krypton Flash Lamps
Often found in the high-performance flash and arc lamp applications favored by the medial and industrial industries, Xenon flash lamps and Krypton arc lamps are the light engine of choice for applications like:
Industrial laser pumping
Digital and studio photography
Warning beacons and strobes
Stroboscopic and effect lighting
Xenon and Krypton flash lamps are confined arc flash lamps which produce microsecond to millisecond duration pulses of broadband light of high radiant intensities. Capable of operating at high repetition rates, these flash lamps generate light over a continuous spectrum from ultraviolet to infrared.
Flash Lamp Shapes
Flash lamps can come in many forms including linear lamps, U-shape, circular, helical, and double helix forms. The ideal solution is determined by the particular application and laser system, but we offer a large assortment of different lamp shapes to meet a diverse set of product specifications. Complete plug-in solutions, lamps, sockets and integrated trigger coils are also available and can be customized to meet any customer need.
Learn More
TJS, Inc. (TJ Sales Associates, Inc.) is the largest consumer in North America of flash lamps and supports the industrial, semiconductor, scientific, medical and aesthetic laser markets worldwide, offering laser repairs, laser services, laser components, and laser refurbishing.
Contact TJS and let us help you locate the right laser parts for your laser system. Our trained and experienced staff can help you match your laser system requirements with our large stock of parts of laser systems so that you get the right part the first time.