From training and installation to service calls and repair, we can help you get all your laser equipment up and running.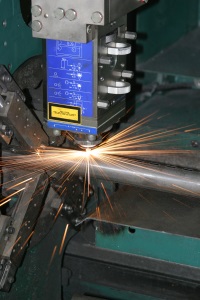 Wrap Around Laser Services
We know that fiber laser equipment can be complicated and, sometimes, difficult to set up for your individual application. That's why we have a full team of specialists that provide nationwide laser support.
Our fiber laser services begin with installation and basic training options for new laser equipment so that your new equipment is set up right from day one and your staff is ready to go. If something goes wrong, however, we also offer 24/48 emergency service call response time to get you up and running again fast!
With highly skilled scientific, electrical, and mechanical engineering staff on our laser service team you can be sure that we have the expertise and experience to help you through whatever laser equipment issues you are experiencing.
Summer Maintenance Discount
If you find yourself in need of our service department, we promise to not only deliver the best is customer service and the expertise to get the job done right, we are also offering a discount on labor for service calls. During our Summer Maintenance sale all you have to do is mention the labor discount on a service call to receive 10% off labor!
Learn More
Contact us to learn more about our full range of laser equipment services and don't forget to mention the Summer Maintenance sale for 10% off our labor rates!