Cynosure medical lasers are one of the most common medical lasers in the field today. As a trusted brand of medical laser systems, Cynosure laser can be found in medical offices across the country. Even a trusted name in laser tattoo removal and skin revitalization like Cynosure will require users to have access to Cynosure laser machine parts.
For some parts, like flashlamps, replacement parts are a necessity. Lining up a supplier of these types of parts is important. For other types of parts, like IPL handpieces, you may never need a replacement part. However, it is good to know that should an accident happen or wear and tear take a tool you have access to harder to find replacement parts.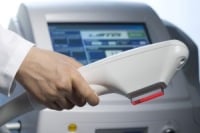 The Importance of Experience
When looking for a laser parts supplier, experience is a critical part of finding a reliable supplier. While you may be able to find Cynosure laser machine parts from a supplier that only supplies parts if at any point you need advice or service for your machine you will be out of luck.
Experience means being able to assist you with more than searching a part number, and that experience is invaluable if/when you need assistance. An experienced partner like TJS has factory trained service engineers who can help you troubleshoot problems and solutions, make recommendations, and provide in-house service when you need it. This means that when you need a replacement Cynosure laser machine part, you know that we'll not only have it, we'll be able to help you with in-house service as well.
Learn More
Contact TJS and let us help you locate the right laser components for your medical laser system. Our trained and experienced staff can help you match your laser system requirements with our large stock of parts of laser systems so that you get the right part the first time.