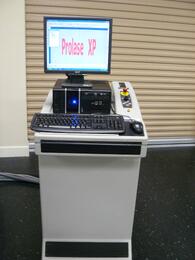 The OEM no longer manufacturers the Insignia/Icon lasers and has limited their support for these systems, preferring to steer customers to their new systems. TJS offers 100% support including all spare parts, repairs, service and upgrades.
This will not change.
TJS, Inc. has designed and developed a Windows interface for the Baubly's/Control Laser Corporation INSIGNIA LX900 and ICON LS900 lasers. This reliable interface utilizes the Prolase XP software operating system. This system upgrade provides our customers with many advantages including
long term system stability
upgraded laser marking software and remove proprietary OEM software
remove obsolote and proprietary digital fiber optic slave cards
eliminate computer communications issues and run one standard PC
uses all off the shelf hardware - you are not held hostage to one manufacturer
Click here to download our outline of services for Control Lasers
Please fill out the form and we will contact you very soon to discuss how we can help upgrade your laser system.